Vissza az összeshez
Hírek
The Iberian Cycle Route is set to become the future EuroVelo 16
2023. szeptember 27., szerda
On the occasion of World Tourism Day 2023, we are delighted to announce the next proposed EuroVelo route: the Iberian Cycle Route. This route will connect Lisbon to Pamplona via Madrid and is set to become part of the network by 2028.
The Iberian Cycle route starts in Lisbon, the Portuguese capital, which is already crossed by EuroVelo 1. The course of the route then moves inland across the Iberian peninsula, through the region of Alentejo, famous for its megalithic sites. The route includes the Évora historic centre – an UNESCO World Heritage site since 1986 and the future European Capital of Culture in 2027: Reguengos de Monsaraz and Vila Viçosa.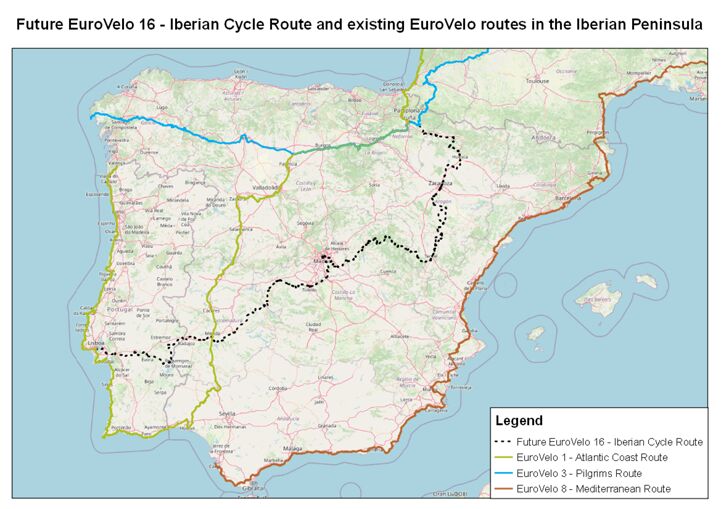 Over the border into Spain, the route follows the course of the Guadiana and Tajo Rivers to Merida and Toledo, eventually reaching Madrid, where it will connect the Spanish capital to the EuroVelo network for the first time. Further, on the road to Zaragoza, the route moves north, reaching the foothills of the Pyrenees, before ending in Pamplona. As capital city of the Navarre region, Pamplona is set to become a crossroad for long-distance cycle tourists, connecting the future EuroVelo 16 with EuroVelo 1 – Atlantic Coast Route and EuroVelo 3 – Pilgrims Route.
The 1,896 km long Iberian Cycle Route will become the eighteenth route of the EuroVelo network at the latest by 2028, provided that a set of criteria are met. It promises to be a unique cycling experience, connecting two vibrant European capitals with beautiful rural regions, where cyclists will be able to discover remarkable natural and cultural heritage and enjoy excellent wine and gastronomy. By attracting investments and creating services for cyclists, the creation of the route also aims to help address depopulation, an issue that affects large areas of the Iberian Peninsula.
The achievement of candidate status for the Iberian Cycle Route is the result of close cooperation between two National EuroVelo Coordination Centres – ConBici and the Portuguese Federation of Cycling Tourism and Bicycle Users (FPCUB). The development of the future EuroVelo 16 is supported by all the regions the route crosses. This new route will add three more Spanish Autonomous Communities to the EuroVelo map – Castilla La Mancha, Madrid and Aragon – and will be well-integrated with other cycle route networks as a strategic corridor.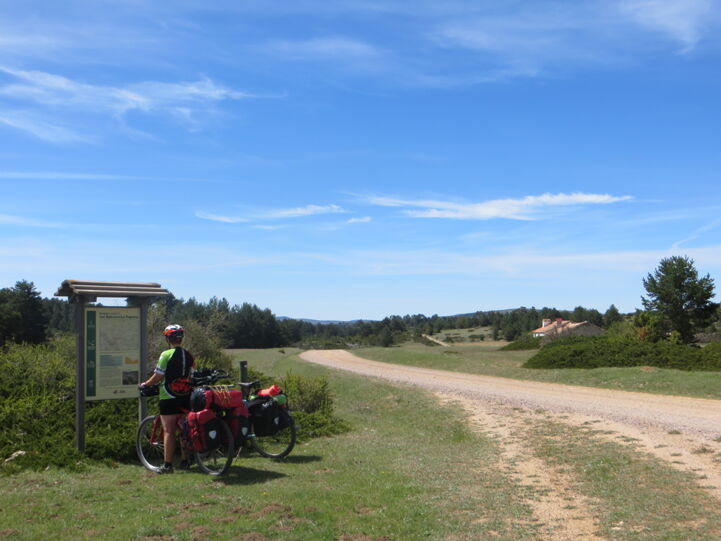 Alejandro Martín Barraza, EuroVelo coordinator at ConBici and consortium leader, said: "This achievement reflects the hard work of all consortium members in Spain and Portugal, as well as the commitment to promoting a unique cycling experience throughout the Iberian Peninsula. The future EuroVelo 16 will serve as an economic catalyst for rural areas, and especially the scarcely populated and stunningly expansive region of Sierra Celtiberian. While 84% of the route is ready to cycle, we will continue the work to improve and develop infrastructure and services."
Jill Warren, ECF CEO said: "With this new candidate route, EuroVelo is continuing to serve as the backbone of other cycle route networks in the Iberian Peninsula. Our EuroVelo 2030 strategy focuses on developing a high quality and geographically balanced network, and the Iberian Cycle Route is an ideal addition that also fills a gap in the EuroVelo network. The commitment shown by the consortium to EuroVelo is very promising for the further development of other routes crossing Spain and Portugal."
Agathe Daudibon, EuroVelo Manager added: "The EuroVelo Management Team will closely monitor the development of the Iberian Cycle Route – future EuroVelo 16 – across the next six years, with the prospect of welcoming it as a fully-fledged member of the EuroVelo network at the latest by 2028."